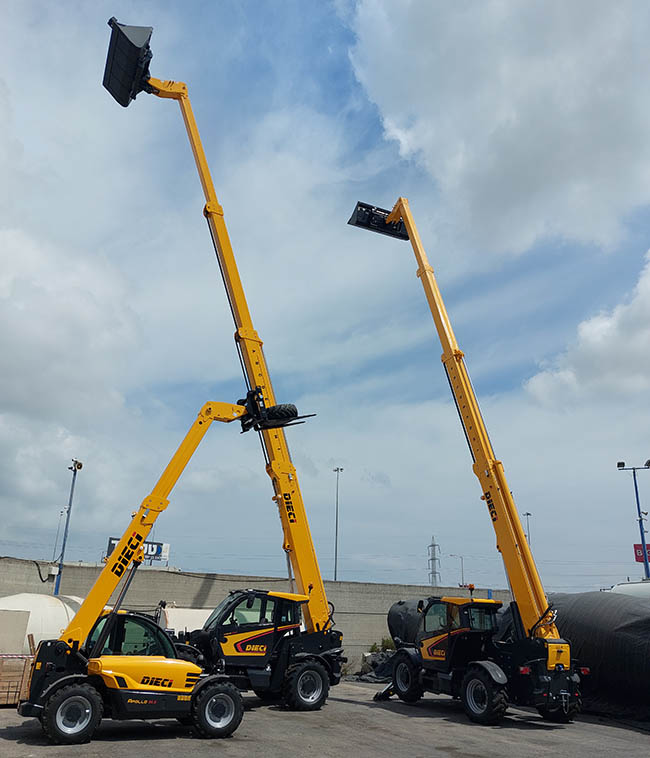 The Belsky group is proud to represent DIECI in Israel.
Dieci is a renowned Italian producer of telehandlers – a means to move, transport and lift both loads and people. 
Used for construction, renovations, logistics and agriculture, it reaches higher and farther than forklifts, with greater visibility, and accessibility on rough terrain.
The DIECI Telehandlers are:
– Safe with high level of automation – giving the user peace of mind.
– Multifunctional, and can perform multiple jobs thanks to their various
  accessories.
– Intuitive and easy to use, allowing the operator to start working immediately.
– Robust, flexible and easy to maneuver, providing a great solution even in 
  confined spaces and challenging locations.
Dieci has a wide range of telescopic handlers, so you can choose the one that best fits your specific work.
The first model brought to Israel is the ICARUS telehandler, particularly suitable for the building and industrial sectors, with great strength, power and liftings height.
It is designed to contain acoustic emmisions, optimize heat dispersion, and has a separator prefilter applied to the air filter, allowing it to work in dusty environments and better protect and preserve the motor.
Technical page of The Telescopic Toader from DIECI, click here >>