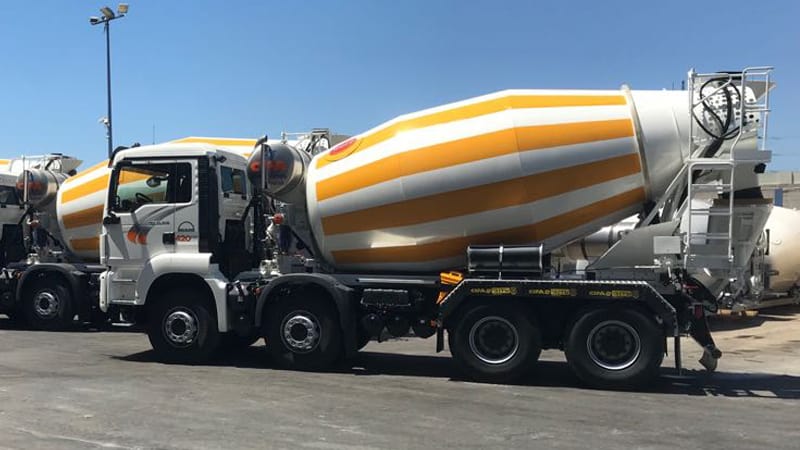 Belsky group is the exclusive dealer of CIFA concrete mixers in Israel. You can benefit from many exclusive advantages by choosing a CIFA mixer:
The high drum-filling indexes, the optimized design of the mixing blades, the especially low centre of gravity which provides an optimal weight distribution and driving performance.
CIFA – Performance, safety and technology in every detail.
As an exclusive dealer, we are able to customize each concrete mixer and its external design to the customer's needs.
In every order, the CIFA concrete mixer comes to our company, where ajustments are made by our garage staff.
Each CIFA concrete mixer is given one year warranty (and extended warranty for various parts of the mixer. (
Beyond that, of course, we continue to provide service, repairs and spare parts if necessary.
We provide maximum service, care and comfort to the customer even after the purchase.
Everything you need to know about concrete mixers
Most of the buildings being built today, whether they are residential buildings, commercial buildings, public buildings or any other building, are built using concrete. This is true for brand new buildings, as well as buildings undergoing renovation and expansion.
Although there are quite a few attempts to find alternative ways to build, concrete is still considered the most popular material for building structures, whether for safety reasons or for reasons of strength and retention, as well as many other reasons.
In order to produce concrete correctly and efficiently, in such a way that it can be used quickly, in a controlled and smart way, we will be required to use a concrete mixer. We will use it not only for the purpose of building buildings but also for building infrastructure, both from scratch and for expansion.
We can find two types of tools on the market with which concrete can be manufactured correctly during the work process. Manual concrete mixer as well as concrete truck. As we can see right away, the difference between the two options is critical and so it is customary to use them in different cases.
Before explaining the differences between the two options, when to use each and where to buy them, we will briefly explain how we produce concrete using the mixer or truck.
How to make concrete correctly
Concrete contains four main materials, cement, sand, gravel and water. Mix the ingredients together to create concrete. Care must be taken to put the right amount of each substance in order for their concentration to be optimal and suitable for the concrete we can eventually use. It is customary to produce the concrete in the factories intended for this purpose, but there are cases, as mentioned, used by mixers and trucks to produce or mix the concrete so that it can be used where it is intended. Usually the transport is carried out or by means of a concrete truck when it is ready and can then be used, and there are instances where the plant crew pours the various components into the truck, so the material can be mixed correctly in the truck or mixer, and then used for construction.